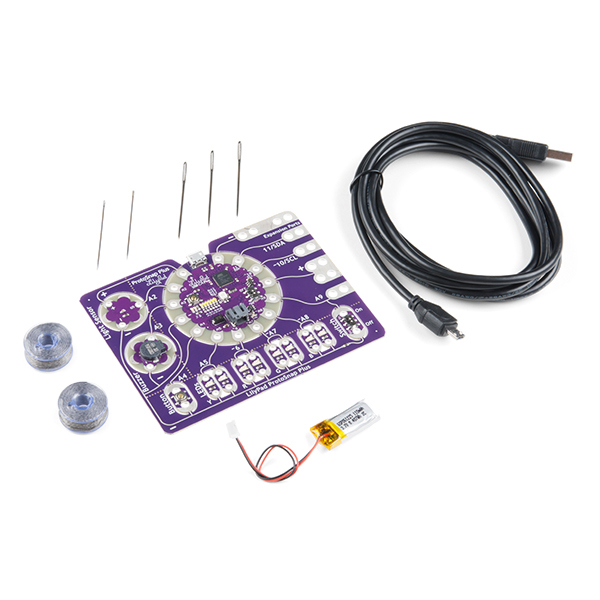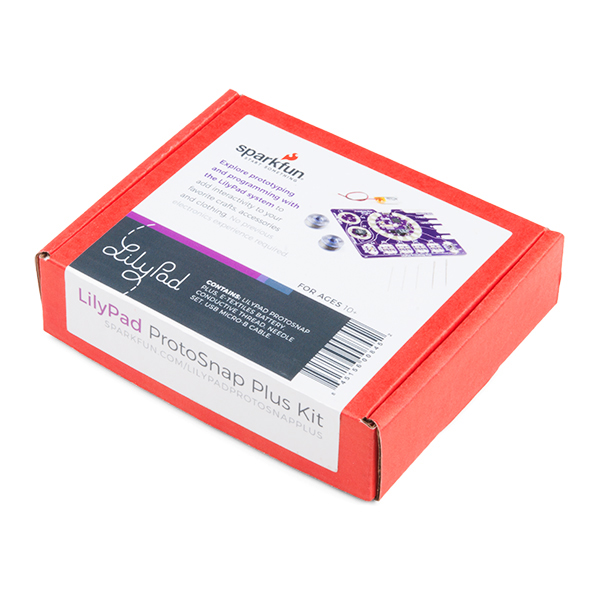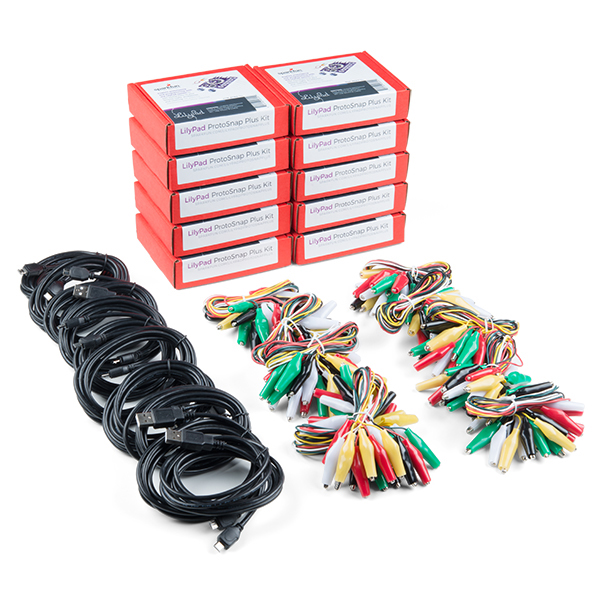 LilyPad ProtoSnap Plus Kit & Lab Pack
All-in-One E-Textile Prototyping Kit
This kit has been specifically designed to make it as easy as possible to create e-textile projects. The included LilyPad ProtoSnap Plus is a sewable electronics powerhouse that can be used to explore circuits and programming, then broken apart to make an interactive fabric or wearable project. We have also included a USB cable, 110mAh LiPo battery, needle set and two conductive thread bobbins. With all of these parts combined and the featured Activity Guide (found in the Documents tab), you will be able to plan and create fantastic projects in no time!
Online Activity Guide walks users through programming with Arduino and 10 activites
Pre-wired board allows users to test project ideas and circuits before sewing them
Combine programming in Arduino with e-textiles
Recommended for grades 4+
Note: A portion of this sale is given back to Dr. Leah Buechley for continued development and education in e-textiles.
Note: Due to the requirements of shipping the included battery, orders may take longer to process and therefore do not qualify for same-day shipping. Additionally, these batteries cannot be shipped via Ground or Economy methods to Alaska or Hawaii. Sorry for any inconvenience this may cause.
1x LilyPad USB Plus
1x LilyPad Light Sensor
1x LilyPad Buzzer
1x LilyPad Button
1x LilyPad Switch
2x LilyPad LED — Yellow
2x LilyPad LED — Red
2x LilyPad LED — Green
2x LilyPad LED — Blue
2x LilyPad LED — Blue
5x Expansion Ports
2x Conductive Thread Bobbin
1x Needle Set
1x 110mAh LiPo Battery
1x USB micro-B Cable — 6 Foot
Circuit 1: Blinking LEDs
Circuit 2: Basic Color Mixing
Circuit 3: Custom Color Mixing
Circuit 4: Fading LEDs
Circuit 5: Play a Tune
Circuit 6: Buttons and Switches
Circuit 7: Sensing Light
Circuit 8: LED Bar Graph
Circuit 9: Theremin Project
Circuit 10: Twinkling Night Light Project