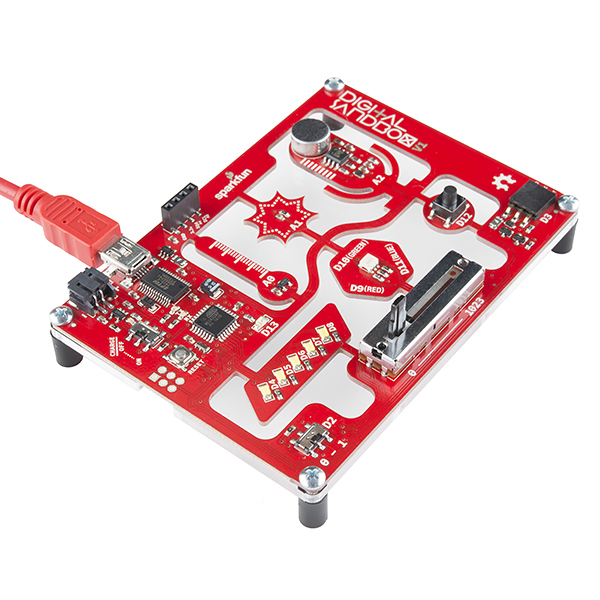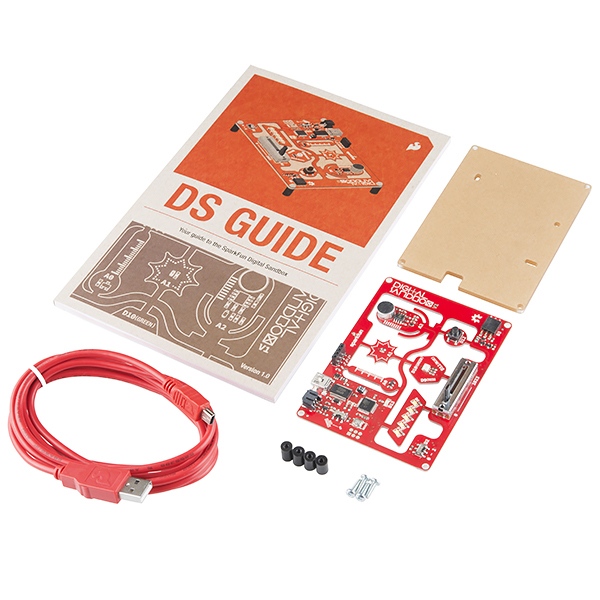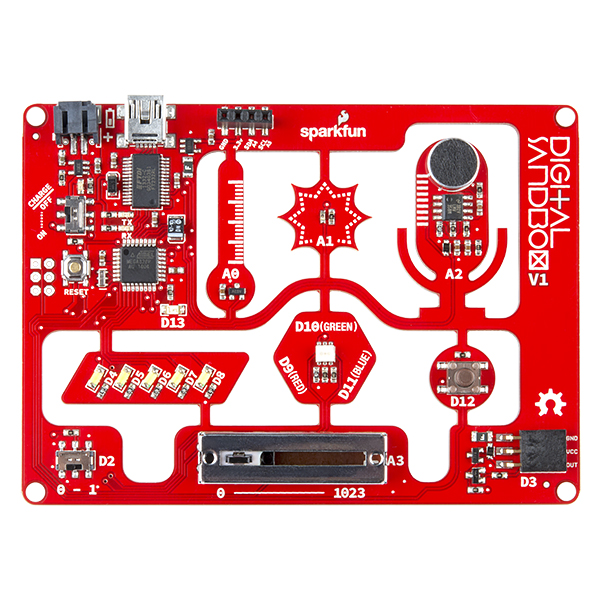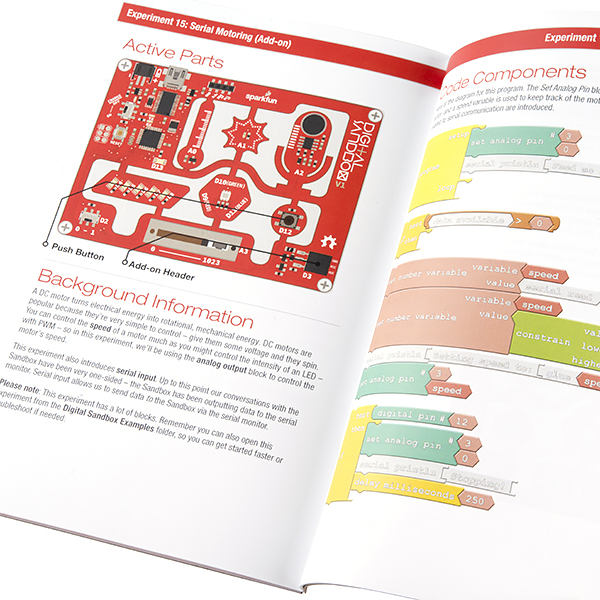 SparkFun Digital Sandbox
Learning Platform for Hardware and Software
Think of this as the SparkFun Inventor's Kit all in one board! The Digital Sandbox (DS) is a learning platform that engages both the software and hardware worlds. It's powered by a microcontroller that can interact with real-world inputs – like light or temperature sensors – while simultaneously controlling LEDs, motors, and other outputs.
Equipped with everything, on board, you will need to complete 13 experiments/projects
Gives students the opportunity to control an LED, measure how loud things are, detect what the temperature is, and more
Connects easily with your computer with a USB (included) for programming
Provides online guide with step-by-step instructions and full sample code
Enables students to program all the experiments with a simple graphical interface instead of writing code
Does not require any soldering and is recommended for beginners ages 8 and up.
Note: There are three additional circuit experiments included in the DS Guide that will require the Digital Sandbox Add-On pack.
Recommend one kit for every two students.
Circuit 1: Exploring Blink
Circuit 2: Multi-Blink
Circuit 3: Dimming (the Hard Way)
Circuit 4: Dimming (the Easy Way)
Circuit 5: Color Mixing
Circuit 6: Number Storage with Variables
Circuit 7: If This, Then That
Circuit 8: The Reaction Tester
Circuit 9: Serial Calculator
Circuit 10: Do the Analog Slide
Circuit 11: Automatic Night Light
Circuit 12: Thermal Alert!
Circuit 13: Sound Detecting
1x Digital Sandbox Board
1x Clear Acrylic Baseplate
1x USB Mini-B Cable - 6ft
1x Instruction Manual
4x Phillips Machine Screw - 4-40, 3/8"
4x Standoff - 4-40, 3/8"
LED Bar Graph
Slide Switch
Temperature Sensor
Light Sensor
RGB LED
Slide Potentiometer
Microphone
Push Button
3-pin Add-On Header
ArduBlock & Digital Sandbox Examples:
GitHub (Example Code & Design Files)