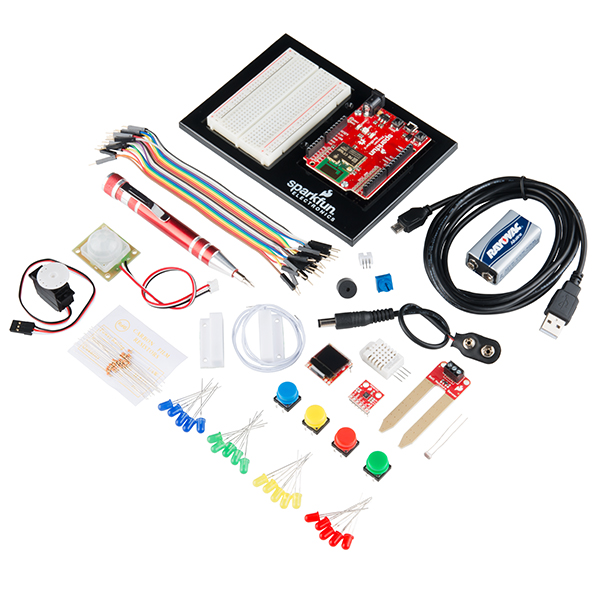 SparkFun Inventor's Kit for Photon
Get started with IoT WiFi development
The SparkFun Inventor's Kit for Photon is a great way to get started in the fresh IoT world and WiFi development. The SparkFun Inventor's Kit for Photon provides you not only with the Photon RedBoard but everything you need to hook up and experiment with multiple electronic circuits! With the Photon SIK intermediate users will be able to:
Complete circuits/projects that will teach you how to read sensors, drive motors, and more
Get started with the Internet of Things--bridging the gap between hardware and software
Engage in engineering and programming without soldering
Utilize a comprehensive online Experiment Guide
Take the next step from the SparkFun Inventor's Kit or in programming for education
Recommend one kit for every two students.
Red, Blue, Yellow, and Green Tactile Buttons
Circuit 1: Hello World, Blink an LED
Circuit 2: With a Touch of a Button
Circuit 3: Houseplant Monitor
Circuit 4: Color Selector
Circuit 5: Music Time
Circuit 6: Environment Monitor
Circuit 7: Automatic Fish Feeder
Circuit 8: Activity Tracker
Circuit 9: Home Security
Circuit 10: Pong!
Circuit 11: OLED Apps - Weather & Clock